About Us
Rotaract Club is a youth development club that emphasises service over self, as well as achieving fellowship through community service, professional development and club service.
In Rotaract Club, freshmen have abundant opportunities to learn and develop themselves.
Firstly, freshmen can improve their communication and interpersonal skills through our 4 community service projects. Our community service projects cater to a wide range of beneficiaries from underprivileged children to elderly in need and freshmen can pick which project they wish to partake in. Additionally, they can clear their community service requirements and also gain leadership skills by joining the organising committee in these projects.
Next, freshmen can explore their interest through our professional development workshop (e.g. photography workshops, dialect workshop). Freshmen also have the opportunity to consult the experts in various fields in our networking session.
Lastly, through all these different sessions, we hope to provide the freshmen with ample chances to build fellowship.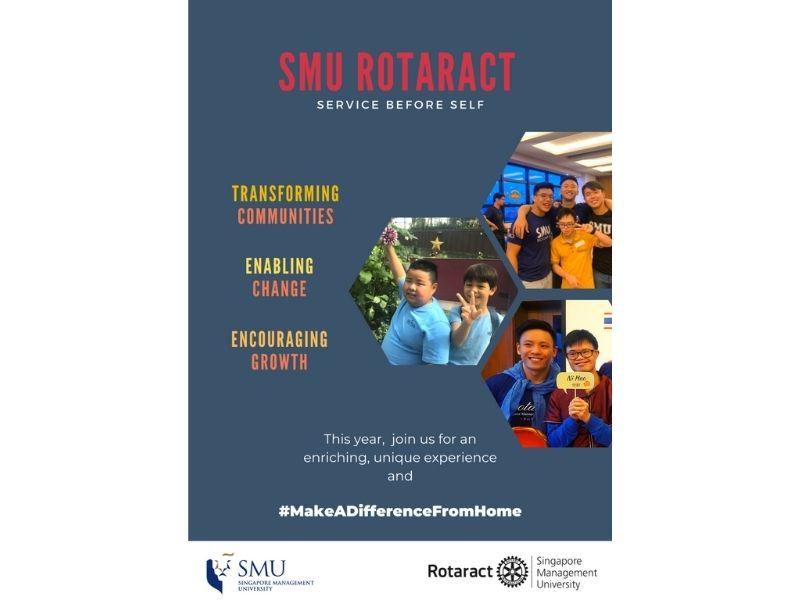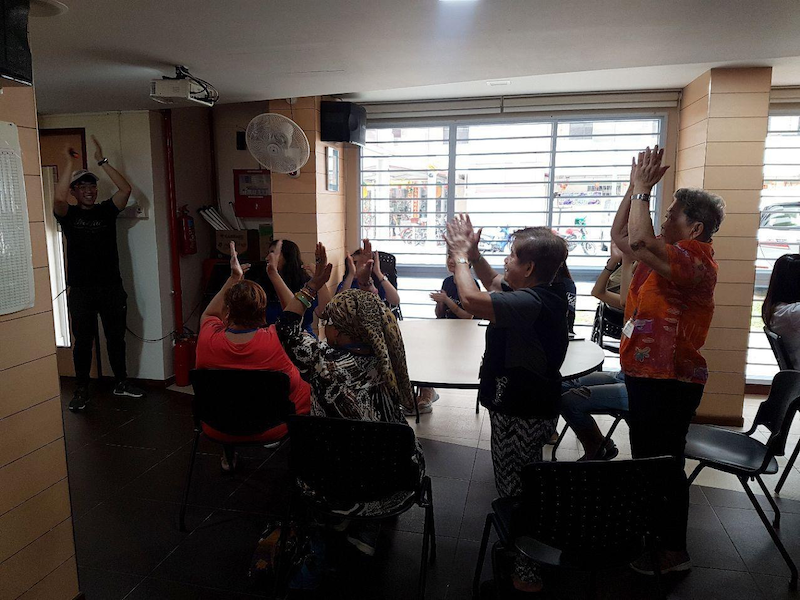 Did you know? 
1. We cater to a wide variety of beneficiaries such as people with Down syndrome and underprivileged students.
2. SMU Rotaract Club is a member of the Rotary Club of Singapore which has been established for 90 years.
OUR TRAINING
*Subjective to the projects.
"I am interested in giving back to the community through volunteering. Joining this CCA will provide me with many opportunities to participate in community projects I might not have had the time to source for and register."

Wee Sherry
SOA: Year 1
"Rotaract is a CCA that allows me to give back to the society by helping various underprivileged groups. I find that very meaningful and would like to contribute too."

Ng Wei Ting
LKCSB: Year 1
"I hope to help the underprivileged students and down syndrome people to overcome their difficulties and broaden their perspectives."

Yang Yu Ting
LKCSB: Year 2
"To have a chance to serve the communities, especially for interesting stakeholders (eg. Project Yokefellow - Migrant Workers)."

Kuek Yi Chen
SIS: Year 2
"I am always interested in giving back to the society and wanting to help the less privileged, this CCA will also allow me to meet like minded friends and gain some new skills along the way :-)"

Felicia Sarah Ng
LKCSB: Year 1
"Being able to help others along the way adds meaning to my uni journey. I also hope to learn from those I serve with to discover better ways I can contribute to my community."

Cindy Clara
SIS: Year 1
"Having been on the receiving end, I believe it is significant for me to seek an avenue to consistently give back to society to express my gratitude for all the assistance I had been given. With SMU Rotaract providing students the opportunity to not only serve the community but also developing oneself, this sparks my interest as I can improve my soft skills and better present myself to assist the beneficiaries to the best of my abilities. Furthermore, having a spectrum of beneficiaries in community service projects allows us to better empathise, and understand the community from all walks of life. Ultimately, ensuring that the beneficiaries are enjoying themselves and has gained from our help is the most important aspect I wish to take away from a community service project. After all, seeing a smile on the beneficiaries' faces never fails to brighten up my day and their joy will further motivate, encourage and strengthen my passion to continue serving. "

Lim Hui Yi
SOA: Year 1
"This CCA allows me to give back to the community (which I enjoy doing) and develop myself."

Faith Chng
LKCSB: Year 1
Previous
Next
What are the volunteering opportunities; projects available?
Due to the current Covid-19 situation, we have the following projects which are to be confirmed:
Project Sparks: A project to raise awareness of special needs children, and broaden the children's perspectives
Project Nurture: A project to link volunteers with underprivileged children, and to build up essential life skills to empower them
Project Bloom: A project facilitating the interaction between volunteers and people with down syndrome, so as to empower them and stimulate their social and emotional development
Several upcoming Ad hoc Projects
Are there other additional activities offered by Rotaract?
We provide skills workshops that aim to teach our members important life skills such as new languages. Throughout professional development networking sessions, we cater to the interests of our members and provide the opportunity to network with industry experts.
What is the commitment like?
Project sessions are conducted approximately about once a month. As a member of Rotaract, Members need to attend at least 1 Rotaract Event per AY to maintain membership.